Certificate of biodegradable linen
Linen is biodegradable fabric, but the extent depends on the manufacturers additional ingredients and at this point we can be proud of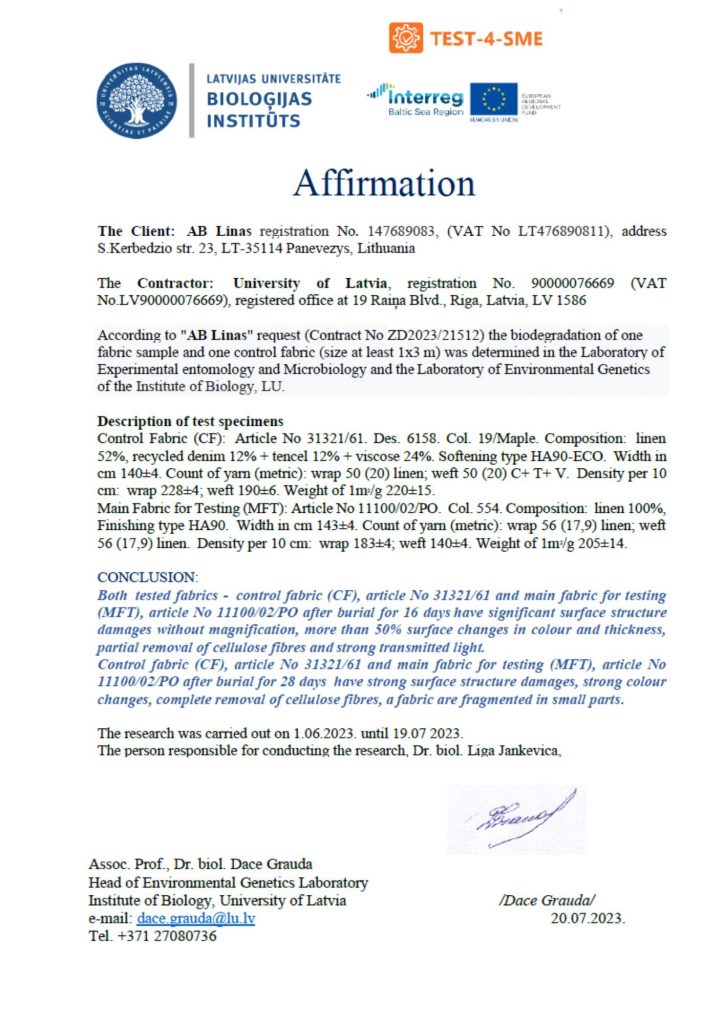 oursustainable production, because we have received the test results and official certification confirming that the not only natural but also dyed linen products we manufacture are indeed biodegradable. This achievement underscores our commitment to producing environmentally-friendly and sustainable goods while maintaining the highest quality standards.We believe that the decision to prioritize sustainability in our product range aligns with the growing global concern for preserving our natural resources and minimizing waste. We are proud to contribute to these efforts and to offer you products that reflect this commitment.
Biodegradability tests
Biodegradability tests measure how fast and how much a textile material can degrade under specific conditions. There are different types of biodegradability tests, such as aerobic, anaerobic, composting, soil burial, and marine. Each test simulates a different environment and has different parameters, such as temperature, humidity, pH, and inoculum. Our fabrics were tested at the University of Latvia by soil burial method. The buried fabric strips were removed from containers at intervals of four days for regular burial test and at intervals of 8, 12, 16 and 28 days for long-term burial test. The buried specimens were observed using a microscope. Colour changes, partial or complete removal of cellulose fibers, appearance in transmitted light, disruption of surface structure vas evaluated. the test results showed that after 28 days all specimens had strong surface structure damages, strong colour changes, complete removal of cellulose fibers, a fabric are fragmented un small parts.